Wisconsin, Washburn wrangling over 'W' logos
The Associated Press
Published Tuesday, December 4, 2007
MADISON, Wis. — This legal dispute is sponsored by the letter W.
For the first time, the University of Wisconsin-Madison is taking another school to court to protect the trademark of its prized W logo.
The university filed a federal trademark infringement lawsuit last week against Washburn University in Topeka. The 7,200-student university uses a W to promote its athletics teams.
The lawsuit says Washburn's Ws are too similar to Wisconsin's so-called Motion W logo.
"Washburn is making use of both identical and confusingly similar variations of the Motion W mark, in a blatant attempt to trade on the goodwill of Wisconsin," the suit says.
Washburn spokeswoman Dena Anson said the university hasn't yet received the lawsuit. But she called the controversy baffling.
"We don't understand how the two Ws could be a point of confusion," Anson said.
The Wisconsin lawsuit seeks an injunction barring Washburn from using the Motion W mark or any trademark similar to Wisconsin's and demands that Washburn recall and destroy any infringing products. It also seeks compensation for profits Washburn earned on its logo and punitive damages.
The university has aggressively defended the logo used by UW-Madison athletic teams since 1990, but it has never taken another school to court.
"It's unfortunate and certainly regrettable from our perspective," said Casey Nagy, an assistant to UW-Madison Chancellor John Wiley. "We really haven't had this kind of situation develop with a college or university."
The lawsuit says UW-Madison lawyers have badgered Washburn over the last six years to stop using the logos. Washburn has repeatedly assured Wisconsin it will stop but has instead expanded its use, the suit claims.
The lawsuit accuses Washburn of "willfully, intentionally and maliciously" using the Motion W logo to deceive consumers and cause confusion.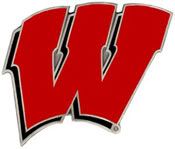 No wonder I could never find Camp Randall Stadium driving through Topeka this Fall! I was very confused ...
I have no idea how Wisconsin intends to prove Washburn did this maliciously. What a bunch of dolts.