WBJ - NEW DAWN FOR DOWNTOWN - The Pieces Are In Place For Major Revitalization, But Challenges Remain
In just a few years, a $300-million biomedical campus is expected to rise in place of nondescript parking lots near Broadway and William streets and a neighboring city transit center
destined for replacement
.
It's a
landmark endeavor in downtown Wichita's history
, and the project's driving visionary says it couldn't have happened without being audacious.
"What all this has taught me is that you need to have big, bold ideas," Wichita State University president Rick Muma said. "I think sometimes, in the Midwest, people are not prone to have those kinds of big ideas."
Wichita definitely hasn't been prone to those kinds of big ideas, but this could start something in the core.
The future Wichita biomedical campus is a leading example of a city — not known for intrepid development — taking bigger steps toward showcasing its core as a jewel to residents and visitors.

Along the Arkansas River, additional transformative projects — a $100-million mixed-use development next to Riverfront Stadium and a multimillion-dollar outdoor expansion at Exploration Place — are also on track to break ground next year.

The years ahead are not without challenges, but they could be poised to deliver a downtown hard to imagine at the start of this century.
There's a lot to be excited about happening soon. I guess the hope is that more will come as these things start to take shape.
Across from WSU Tech's new National Institute of Culinary and Hospitality Education (NICHE) and near the recently opened Kansas College of Osteopathic Medicine, the 471,000 square‑foot biomedical campus is expected to initially bring about 3,000 students and 200 faculty and staff downtown.

Muma said he expects ground-breaking on phase one by June. The target is to have all educational programs coming over from the three institutions' campuses in time for 2026's fall semester.

By that point, he said the goal is for funding to have been identified for phase two, which will include clinics.

Over time, thousands more people — up to 12,000 — could eventually be on campus, Greater Wichita Partnership president Jeff Fluhr said.
Up to 12,000? I haven't heard anything like that prior to this article. I figured there would be growth from the initial amount projected, but damn! That kind of increase would lead to the necessity of more happening in the area and would be a massive benefit to businesses already down there.
Fluhr said years of work tied to Project Downtown has enhanced infrastructure and added life in the heart of the city, helping create the environment for major projects like the biomedical campus to happen. Since 2010, $1.6 billion in investment has gone into the city's core.
"Now you're creating within the core itself this whole new industry, surrounded with health care and health-care education, which is going to be incredibly important for our downtown," Fluhr said. He and Muma said they expect private-sector investment to come in alongside the center, similar to
WSU's Innovation Campus
.
Infrastructure improvements and added vibrancy downtown over the last decade factored into the decision for the center's home, Muma said.
I've said for years that it's a process and Wichita just needs people with vision and patience. Nothing happens over night. But the investments have been made and the benefits are coming.
To the west, more action is happening along what many have seen as a long-underutilized part of Wichita: the Arkansas River.
Exploration Place, on the river's west bank, has
funding in place
to start construction by early 2024 on an outdoor amphitheater. Then, phase two will feature a $17-million playscape, a new generation of playground with a theme-park feel for all ages.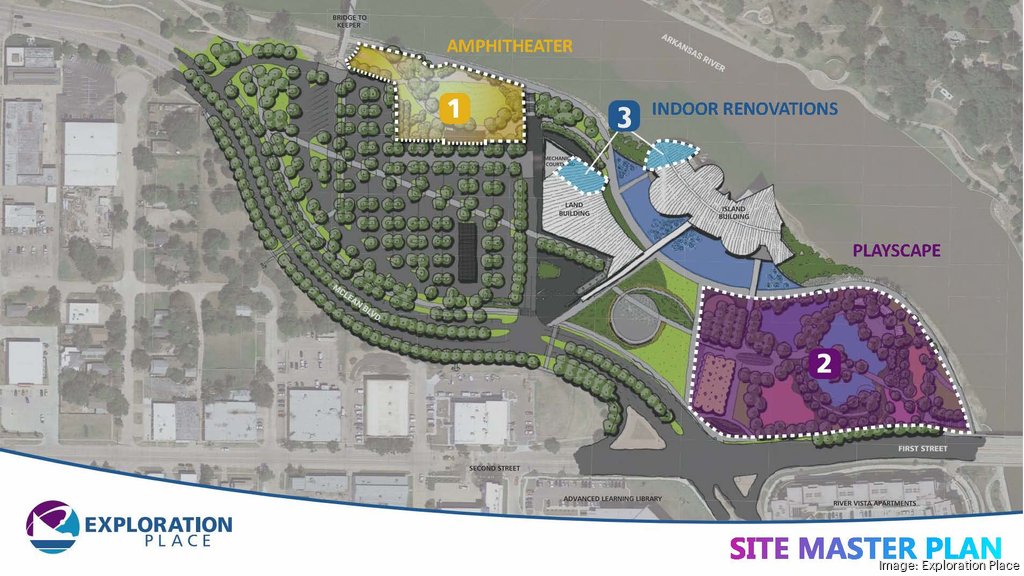 "I want to say to the people of Wichita, the river is a much bigger asset than you seem to think," said Adam Smith, Exploration Place president.
The U.K. native, who has worked in multiple museums across the U.S., added, "Anywhere I've ever lived and worked in the past, water is a universally understood asset. People are attracted to it."
They're aiming for the playscape to be open in 2025. Smith does voice concern about the elevated violent crime rate that has hit the cities core as a possible negative to maximizing what can be done with all of this.
After an expected project next to Riverfront Stadium went nowhere in 2022, the City Council
last month
approved a new agreement with Overland Park-based EPC Real Estate Group anticipated to push forward a $100-million mixed-use commercial development.
Austin Bradley, executive vice president at EPC, said theproject is set to include an approximately 165-room hotel, 180-unit luxury apartment complex, 10,000 square feet of retail space and a parking garage.
It's projected to break ground in the middle of next year and wrap construction in 2026.
Bradley, whose firm spearheaded the
225 Sycamore
apartments in the Delano District, said Wichita can expect a multifamily development with top-level amenities, hotel with a rooftop cocktail lounge and restaurant on the riverfront and commercial uses that complement the area.
"We want to make sure it's not a seasonal destination, but a year-round destination," he said.
Wichita has been waiting for this area to take off. Laham Development has been very complimentary towards EPC and what they've previously done in the area and look forward to what they do here. Laham apparently also owns land to the north of Riverfront Stadium and has plans there, and I think with this project beginning next year, we may see Laham start more planning and even construction not long after it begins as the Ballpark District could be a go to destination even outside of events at Riverfront.
They also talk about the Century II area and the Performing Arts need. The city manager says serious talks about that plan and action needed should take place next year. Everyone is in agreement that we have to have a new PA facility.
One of the biggest shifts ahead for the community, when it comes to downtown, could be its own mindset — influenced by Kansans' well-known humility and other grand plans for the core (See:
The Minnesota Guys in the mid-2000s
) going by the wayside.
"It's like there's a bit of a suspicion of the grandiose," Exploration Place's Smith said.
But this moment seems different, and very real, led by the KU-WSU biomedical effort.
"I'll say, just flat out, it's going to happen," WSU's Muma said of the campus.
Including the campus, nearly $700 million of downtown investment is in the pipeline, GWP's Fluhr said.
"There's truly a concerted effort to build this remarkable city," he said. "We're seeing that in action with the projects that have been announced."
There's a lot of optimism and that goes a long way. Especially once dirt starts to be moved.
The article also lists a few current downtown projects
The new Keycentrix HQ on Emporia. They should be moved in by November. This is the former Legacy Antique Mall.
The National on Main. It's a mixed-use luxury apartments and co-working space. It's in the former Union National Bank and Commerce Bank building.
NICHE on Broadway. WSU Tech's culinary and hospitality school. I believe it's open but they're still working on it and it will continue to grow. This is the former Henry's department store.
Kansas African American Museum on Main. They're still working on a $6M fundraising campaign. This is the former Sunflower Bank building.
Then they finish up talking about how big Intrust Bank Arena and Riverfront Stadium have been in helping the downtown energy in recovering from the Covid slowdowns. IBA just set a new record with the Zach Bryan concert having 16,172 fans in attendance while Riverfront saw the biggest year over year jump in home attendance for all of MiLB.
If you can't see good things ahead for downtown, I don't know what to tell you. It's going to be massively different, and better, by 2030 and who knows what we'll be looking at by then.